If you or somebody you know has limited mobility, it's most likely difficult or even dangerous to have a bath.
In this article, we shall look into the main obstacles to bathing, and we shall discover why, even those who are most reticent to bathe, can now feel confident about having a safe, enjoyable and long-lasting bath, just like they used to when they were kids. We will also cover the buying and installation process as well as estimated costs.
---
The joys of bathing
There are many reasons why soaking in water is deeply soothing and relaxing, particularly after a long, hard day. Since we are born, we begin to enjoy the beautiful feeling of warm water embracing our bodies and giving us a weightlessness and buoyancy that few other environments do. A long, warm bath ensures a good night's sleep, especially when we tuck ourselves into cool sheets and our body temperature drops, thereby leading to an increase in melatonin (a sleep-inducing hormone). There are many kinds of bath, each of which bestows different health benefits. Many swear by the relaxing effects of an essential oil bath (lavender is great for relaxing, bergamot for energising), while Espom salt baths have long been used for eliminating toxins through the skin's surface. A carefully regulated hot bath, meanwhile, can strengthen the immune system, deep cleansing and detoxifying the skin as well. For many, the joy of a long bath can be summed up in one word: peace. A bath can be that one moment in the day when we enjoy solitude, and we can relax our aches, pains and cares away, pampering ourselves with our favourite soaps, oils and other bath rituals.
---
Bathing problems
Statistics show that around 40% of people aged over 85 in the UK are estimated to have a 'severe disability'. Even in the 'younger old' group (those aged 60-74), 10% of men and 13% of women report difficulty bathing, while 6% find it hard to get out of bed without help. The number of dementia cases is also growing, and the UK's older population is predicted to increase dramatically over the next few decades. Over 160,000 new cases of dementia are diagnosed every year and by 2015, the total number of people with dementia in the UK is estimated at 850,000. By 2025, this number will rise to a million.
In addition to dementia, illnesses such as heart disease, arthritis and osteoporosis can make it difficult or risky, to get in and out of a bath without aid. Statistics show that the elderly spend between 70% and 90% of their time at home, which is a good enough reason to make the home environment (including the bathroom) as comfortable, practical, and safe as possible.
Of course, mobility isn't an issue which only affects the elderly; in the UK, almost six million adults of working age and over 5.1 million pension-aged citizens, are disabled. The issue also affects carers; in the UK, approximately 12% of adults provide care to an adult family member, partner or friend; a fifth of this group provides 50 or more hours of care per week and 70% of those receiving this type of care are over 70.
If getting in and out of the bath or shower is difficult or painful, or that it makes you fearful of slipping and falling, it may be time to consider a mobility bathing aid. If, on the other hand, you are caring for a family member with mobility restrictions, you will be amazed to see how much easier your life can be with the right mobility bath solution. Avoid back issues, frustration, injury, and tiredness, by relying on cutting edge technology, specifically developed to address the issue of bathing for the elderly and those who are disabled.
---
Solutions and Benefits
Mobility bath solutions come in all shapes, sizes and price ranges, so that whether you are after a simple bath bench or a rotating battery-operated chair akin to something you might expect to find aboard the star ship Enterprise, you will definitely find your perfect fit. These are some of the most popular bath and shower solutions on the market: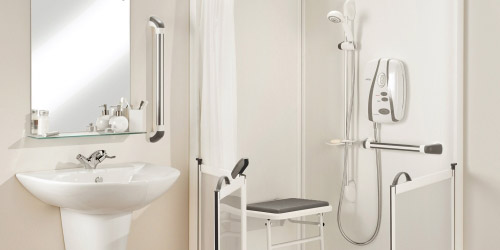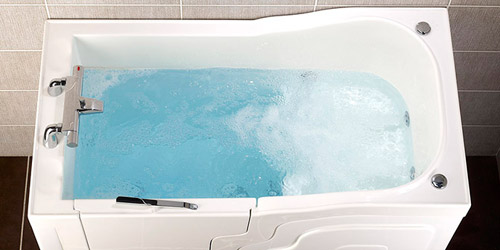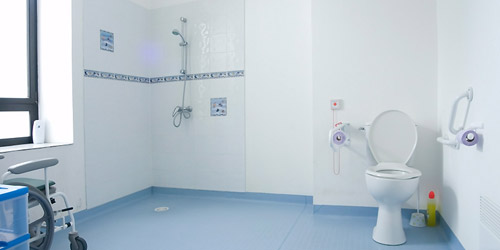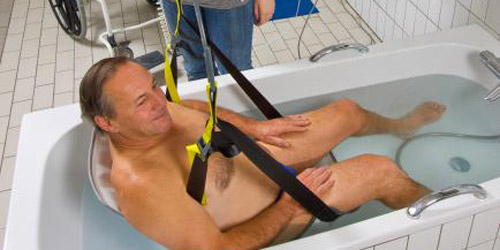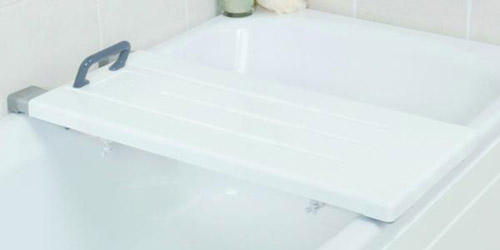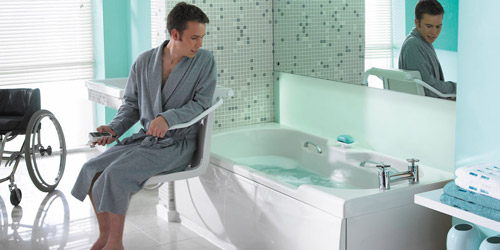 ---
Manufacturers
There are many companies in the UK that can help you find your perfect mobility bath solution. These include Gainsborough Specialist Bathing (boasting 30 years in the industry and offering solutions that meet demands of the modern care environment), Mobility Plus + Bathing Ltd (offering a host of walk-in bath, walk-in shower and wet room solutions), Age UK (a registered charity offering a range of baths and showers as well as stairlifts) and Bathtime Mobility (selling walk in baths, power baths, bath lifts, showers, wet rooms and more).
The buying process:
Before buying a mobility bath solution, doing the required research is a must. Speak first and foremost to an occupational therapist, who will advise you of the type of aid you need. Visit as many companies as you have time to and ask them to try out different chairs, and to see all available models of walk-in showers and wet rooms.
Survey and design:
The bath company will need to survey your home in order to design a new bathroom/mobility solution and quote you a price. At this stage, they will give you advice on aspects like plumbing, tiling, electrical work and any necessary building work. For instance, you may need special pumps for greater water pressure or quicker water draining. Make sure that the companies you approach offer free assessments; you should obtain more than one or two quotes, since different companies will offer you different solutions and may vary considerably in price. Don't necessarily opt for the priciest/fanciest solution. Sometimes, a few mobility aids affixed to the shower or bath, are all you need. Most top companies have entire design departments, which will create beautiful 3D designs, scaled drawings and bespoke plan drawings to enhance visualisation. The design report will also contain the price quotation, which will include design, manufacture, installation and service prices.
Installation:
Before installation, the team in charge of the work should run through all the points you agreed on at the surveying and design stage. Efficient teams will cause the least disruption possible, so you can continue to use the toilet and shower/bath. Of course, this depends on the extent of the work involved. They may need to cut the water off for one or more days, for instance, but if this is necessary, you should make alternative arrangement for that time frame (this may involve living with a friend or relative for a few days).
Time Scales:
Depending on the extent of renovation/work your bathroom needs, installation can take anywhere from a few hours or days to a couple of weeks or more (if extensive plumbing work is involved). Opt for a company that does not sub-contract their services to others, so that the approximate time frame you agreed upon is respected. It is also wise to request to pay in the region of 50% of the price upfront; the rest should be paid upon completion.
What is involved?:
Depending on your mobility bath choice, installation of a new bath or renovation for a new walk-in shower or wet room can involve changing the tiling for safer flooring, replacing taps, toilets and baths with furniture of a new and adequate size, changes in plumbing to increase water pressure, electrical work to accommodate power chairs and hoists, etc.
Disruption:
As mentioned above, if you only have one bathroom, it might be wise to arrange for alternative accommodation if your water needs to be cut off for over a day. Moreover, when tiling needs to be changed, you can expect scraps and dust to litter your bathroom floor. Ensure the company cleans this waste in a timely and professional fashion. You should not have to hire a separate service to clean up their mess.
Aftercare:
Make sure that the company will continue to be there for you and help you out if you have any problems after the installation of your mobility bath solution. They should have a dedicated customer service department that offers help and advice anytime you need it.
Estimated costs:
You should obtain a price quotation from all the companies you approach. Prices vary dramatically, since you could need everything from a simple shower safety handle to a complete renovation, with power seats, level flooring or hoists.
The average spend for a new bathroom in the UK is £3,000 but you can expect that amount to double in the case of a brand new bathroom with mobility solutions. Just a walk in bath can cost between £1.500 and £5,000 (or more) so you will need to add on the costs of design, installation, plumbing, etc. A simple bath lift, on the other hand, which lowers you into and raises you out of the bath, can cost just £750 (approximately).
Clearly, a thorough survey of your needs is the only way to ascertain exactly how much your dream project will cost.
Governmental aid: Be aware that you don't need to pay VAT on items designed for disabled persons if you have a long-term disability/illness. Check www.turn2us.org.uk to see if you qualify for a grant. Also, approach the social services to see if you are eligible for free aids such as bath boards and seats, grab rails or shower seating. You might also be entitled to a Disabled Facilities Grant.
---
Conclusion
Arrange, through your local council, for an occupational therapist to visit and assess your requirements and determine if you are entitled to a disabled facilities grant. Once you understand the available options to suit your needs, it's time to get some quotations.
Never, repeat NEVER, get one quote. Always shop around! We recommend getting at least 3 quotes to compare. We can help with that!
If you would like us to, we can arrange 3 no-obligation quotations from reputable mobility companies in your area. We are independent and offer this service free of charge – saving you time, stress and effort.
Simply, complete our when you are ready.
---